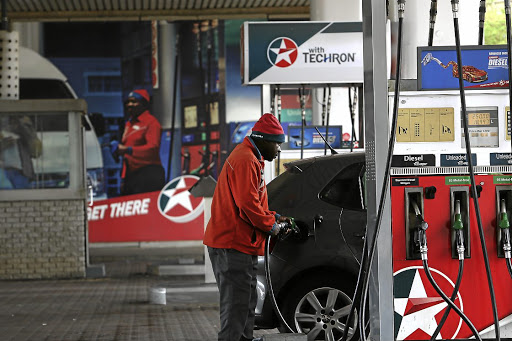 The pressure on SA's embattled consumers continues, with a massive fuel-price increase expected to be announced on Friday due to a surge in the price of Brent crude oil and rand weakness.
This will in all likelihood push the cost of unleaded petrol towards R16 a litre, but analysts say it is not all doom and gloom. In the long term, oil prices should ease from recent multiyear highs as major producers Saudi Arabia, the US and Russia ramp up production.
Expectations are for an increase in the fuel price of between 70c and 85c, adding to the up to 72c levied at the beginning of May.
"The combination of a weaker exchange rate in May and higher global petroleum prices means that there is currently an 82c per litre underrecovery, which is likely to translate into a similarly sized petrol price increase early next month" said Old Mutual Multi-Managers chief investment strategist Dave Mohr.
Petrol inflation
Petrol inflation was reported at 9% in April, and May's number would be similar. June's petrol inflation could therefore jump to 16%. Core inflation, which excludes food and fuel prices, increased to 4.5% in April but has stayed in the Reserve Bank's 3%-6% target range, he said.
The Automobile Association expects a tough time for consumers, after the decision by the Reserve Bank last week to keep rates on hold. The Bank went further, indicating that any move would in fact be upwards rather than a cut.
The AA's Layton Beard said that there would need to be a significant strengthening of the rand to alleviate pressure on consumers.
The Bank revised its estimated average oil price from $63 a barrel in its March meeting to $70. Despite this, the Bank's headline forecast remained unchanged due to lower food prices, Governor Lesetja Kganyago said in May.
Although there were hefty increases recently, there was a R1 drop in the fuel price in the first quarter of 2018, boosting consumer confidence and spending, said Econometrix director Azar Jammine.
The recent slight recovery in the rand and falling oil prices had tempered the effect somewhat, said Jammine, but this had so far been marginal.
Over the past two weeks Brent crude has come off a multiyear high of $80 a barrel to trade at about $75.
The price first spiked to a four-year high on the back of the US withdrawal from the 2015 nuclear deal with Iran, but has since readjusted after assurances from Russia and Saudi Arabia of production increases to offset tightening global supply. Declining Venezuelan production has also crimped output somewhat, with oil in dollar terms having risen 19% so far in 2018, and 39% over the past 12 months.
The rand meanwhile weakened 2% against the dollar in the year to date but appreciated 5% on its level at the end of April 2017.
Although there was market speculation Brent would slowly rise to $100 a barrel, this was not likely to be sustainable, said Fred Fromm, vice-president of Franklin Equity Group. Opec and Russian oil production increases, as well as surging US production, would offset losses from Iran and Venezuela.
"Although one cannot rule out a short-term spike in oil prices, particularly given the influence of traders, a significant rise in oil prices will likely prove counterproductive for producers as additional non-Opec production is incentivised and demand curtailed," he said.
-BDLive